Music is Therapy
Learn about the benefits of Music Therapy


---
Expressive Journeys LLC serves Schenectady, Albany & Troy, NY and the following counties: Albany, Schenectady, Saratoga, Rensselaer, Schoharie, Warren, and Fulton. We are a trusted resource for Music Therapy working in School Districts, group homes, in-home visits, day habilitation facilities, assisted living facilities and for clients and students at our Creative Arts Clinic. Our staff at Expressive Journeys use music to address the physical, emotional, cognitive and social needs of individuals. Our staff offer a range of services for clients from birth to end of life. We are a trusted source for Music Therapy.



Call 410-804-0439 now to speak with us about the positive impact that Music Therapy can have on your loved ones.
Expressive Journeys offers:
Why choose Expressive Journeys?
Here at Expressive Journeys, we will provide you with:
Personalized services from Board-Certified Music Therapists (MT-BC)
A plan tailored to fit your needs and schedule
Access to musical experiences and relationships that weren't previously possible
As a team of passionate Music Therapists, we utilize music experiences to address non-musical goals with our clients.
Using music as a catalyst for therapeutic growth, helps clients work on academic, physical, cognitive, and social goals. This method gives people an outlet to express and use their whole body to engage in the therapeutic process. There is a relationship existing between the communication, cognitive, social, and physical goals worked on in Music Therapy, and the functional living skills of one's daily life. Active engagement in Music Therapy services create a fun and meaningful approach that is beneficial for clients because it engages the whole brain simultaneously. When engaging the whole brain in music making, new neural pathways are developed, and skills can be transferred over to clients' academic and life skills.

If you're looking to find Music Therapy for an individual facing disabilities or life challenges, call Expressive Journeys LLC today. We also offer individual and group Music Therapy sessions, music classes, and music lessons that are tailored to fit individuals' specific needs. Our employees are covered by General and Professional Liability Insurance as well as Workers Compensation. We offer music groups and classes and accept self-direction budgets. We also offer mobile Music Therapy services!

In 2019 we opened our doors at the Expressive Journeys Creative Arts Clinic at 10 Karner Rd. Guilderland, NY and are providing programming including: Music Lessons, Music Classes, Music Therapy, Art, Mindfulness and Music, Yoga and Movement classes.

See what a difference Music Therapy with a clinician from Expressive Journeys can make in the life of a loved one.

Contact us today to get started!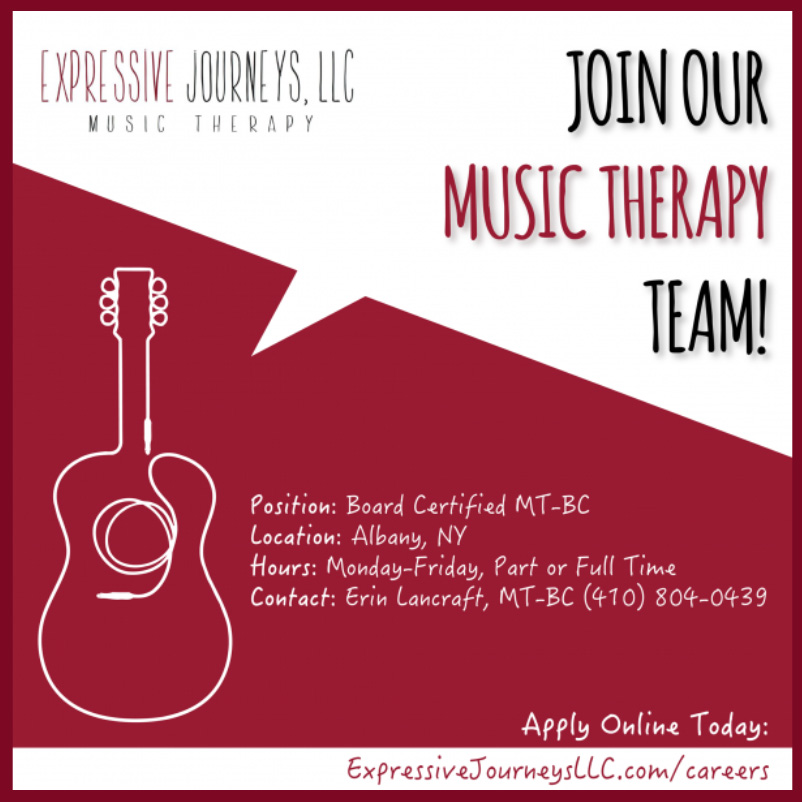 Expressive Journeys LLC

10 New Karner Rd.
Guilderland, NY 12084

GET DIRECTIONS


Call Us
Phone: (410) 804-0439

Hours
Mon: 8:00AM-7:00PM
Tue: 8:00AM-7:00PM
Wed: 8:00AM-7:00PM
Thu: 8:00AM-7:00PM
Fri: 8:00AM-7:00PM
Sat: By Appointment
Sun: Closed